The SKIL 3540-02 wet tile saw is an entry level model that will suit the home DIYer or enthusiast looking to save money and add a respectable new power tool to their kit. There are no bells and whistles on this model, just the features needed to cut small or thin tiles such as ceramic and stone with accuracy.
Available through Amazon stores online this tile saw can be had for around $80 and will likely pay for itself just on one or two jobs alone.
This is not a wet tile saw for professionals. It is a budget unit for the home DIYer that has the occasional tiling job to do around the home. It's not made for large tiles but will save a lot of time and mess for the average user.
Click here to see what others are saying…
Pros:
Cons:
No water pump
Fence adjustment tricky
The SKIL 3540-02 comes with a small 4.2 amp motor that should be adequate for most small tiles. The 7 inch diamond blade has a guard that is easily removable if you are working on larger tiles. The work top is made from stainless steel which means that it won't be rusting anytime soon. The adjustable rip fence is very simple and some may find it a little fiddly to set up the first time. But once you get it set correctly you can make accurate cuts.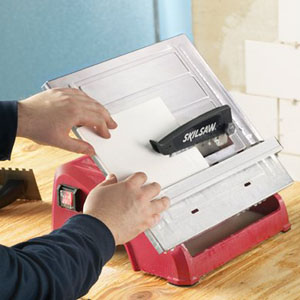 You can cut tiles at different angles by tilting the worktop up to 45 degrees. While the alignment may be a bit tricky to get perfect, once you have it set up correctly it will save a lot of time on big jobs. Although this is a water saw there is no pump or nozzle built-in. Instead the blade runs through a reservoir beneath the table than helps to keep the dust down. The reservoir is small and requires regular topping up and cleaning to remove the sludge.
This is an entry level tile saw that is simple in design. It possesses all the features required to cut tiles on small jobs and will save you the high cost and inconvenience of renting one.
For anyone that wants to take care of some small tiling jobs in their home then this wet tile saw should be more than adequate. At a price that is affordable it will keep dust to a minimum and make angled cuts easier.
Click here to purchase this product on Amazon.