The Bosch PLH181K cordless planer uses the latest 18 volt lithium ion batteries to give you a versatile and accurate power tool that has the ability to work in places that regular corded planers cannot reach.
Available in stores since the middle of 2012 this cordless planer from Bosch will set you back just under $300. Prices are continually dropping so it pays to shop around and if you already have compatible batteries then you can save yourself quite a bit of money by getting the bare tool model.
The Bosch PLH181K is a tool that is going to suit the serious woodworkers of the world as well as tradesmen. It is a precision planer that you can take literally anywhere and not have to worry about finding power sockets.
Click here to see what others are saying…
Pros:
Precision cutting blade
Dual port dust extraction
Cons:
Using precision Woodrazor™ micrograin carbide blades the Bosch can cut up to 1/16 inch deep and 3-1/4″ wide using an easy to set depth knob. It has a 'no load' speed of a respectable 14000 rpm. The blade is counterbalanced electronically to ensure a smooth even cut along the whole length of the work surface. The edge guard is easy to adjust without the use of tools.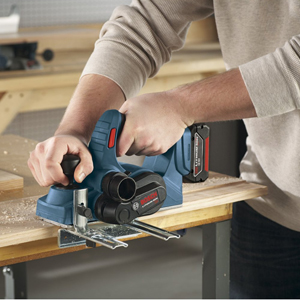 Running on powerful 18 volt lithium ion batteries, this planer has enough power to cut through most jobs easily . The kit comes with a fat pack battery although this model can also run on the slim pack version as well. A fast 30 minute re-charger is also included. As with any cordless tool it is always best to have a spare battery at the ready. One nice feature of the Bosch PLH181K is the ability to select which side to eject the chippings from. So whether you are left or right handed or depending on how you are working the job you can always select the most convenient option.
Both the main central handle and the front knob have a nice feel to them. The soft grip and handle size leads to a firm and stable hold on the planer. It feels comfortable to handle and is easy to control.
The Bosch PLH181K cordless planer is a high quality power tool that cuts accurately and smoothly. Although more expensive that its cabled cousins this tool is perfect for quick jobs or where power outlets are not available.
Click here to purchase this product on Amazon.