The Bosch 4100-09 table saw is a compact 10 inch worksite unit with and integrated stand. For the times that you either need a portable saw or don't have the room for a full cabinet saw a collapsible table saw is a welcome sight. Bosch have again produced another winner with the 4100-09 and a  reasonable price.
The Bosch 4100-09 is in stores around the country and is available online from from just under $600. Amazon are a good place to look for discounts if you want to buy online. The optional Bosch DC010 Digital Carriage Display can be attached if you want make high degree measurements. This will set you back another $110 approx. or you could go for the Bosch 4100DG-09 instead that has it fitted.
This table saw is aimed at the professional craftsman and home improvement enthusiast that either needs a portable table saw for work or doesn't have the space in their workshop for a larger unit.
Click here to see what others are saying…
Pros:
High-Precision Cutting
Gravity Rise Stand
Cons:
Factory Blade is not high quality
Dust extraction poor
The portability of this unit is one of it's best features. The wheeled stand makes transporting the saw a breeze although some users reported that they found the wheels to small if you want to take the unit up stairs as the metal bar behind keeps scraping. The powdered coated stand is lightweight, at 30 lbs, and features a unique gravity-rise system that enables the saw to be setup and taken down quickly. The saw itself is powerful, with a 15 amp motor that has the 10″ blade running at 3650 RPM. There is a soft-start feature for safety. It can make bevel cuts from -2 to 47 degrees and dado cuts up to 13/16 inch.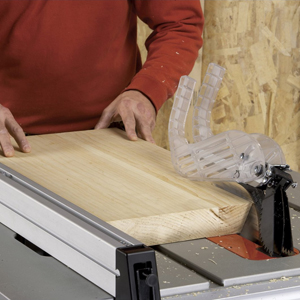 The cutting table is made from machined aluminum. Measuring 29 x 21.5 inches it can handle large pieces easily. It also has a 25 inch ripping capacity. You also get a one-handed rip fence guide for precise cutting. There is an arbor locking system for when you need to change out cutting blades.
The smart guard system is incorporated as an extra safety design. This tool free design includes a riving knife, ant-kick pawls and a blade guard whilst allowing extra user protection.
Superbly designed and rugged the Bosch 4100-09 is a powerful and accurate saw.The whole unit weighs in at 99 pounds and is very easy to maneuver. control is exceptional and the whole assembly feels well made and rugged.
Click here to purchase this product on Amazon.