The Bosch CLPK28-120 combo kit is an inspection camera and cordless drill driver set for home users and pros alike. When you need one, inspection cameras are worth their weight in gold. Use one often enough and this kit will pay for itself in no time. So lets delve into the features and see what this camera can do.
Released a few months ago you can now pick this up with some substantial savings over the rrp. Amazon presently have this unit on offer with savings of almost $300 so you can pick this combo kit up for just a little more than the price of the camera alone.
This kit is aimed at the home DIYers and professionals alike. The inspection camera is the main part of the kit and is great for checking out blocked heat exchangers, wall cavities and piping.
Click here to see what others are saying…
Pros:
Long 47″ Inspection Cable
Excellent value for money
Cons:
Video out is analogue
No hammer function on drill
The Bosch CLPK28-120 contains the popular and capable Bosch PS90-1A endoscopic camera and the compact PS31-2A Drill/Driver. Although both pieces do sell separately buying the kit offers great value for money. Lets first discuss the camera. The short imaging head allows this camera to get around corners that larger heads would be unable to negotiate. The 2.7″ screen isn't huge but does feature a video out connector so that it can be connected to external equipment. The output is analogue so if you want to use it an a PC you'll need an adapter card such as those from Hauppauge.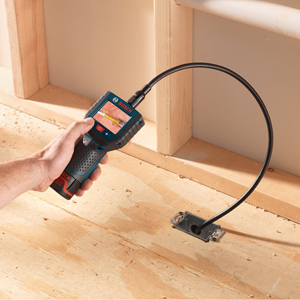 The Camera waterproof inspection lead is 47 inches long which should be length enough for most jobs. As would be expected the head does contain lighting to aid illumination in dark areas such as up pipes although the range is limited to around 9″ in most cases. The drill driver is compact and high torque. It's size makes it easy to handle and it'll fits into places that a larger 18 volt model wouldn't reach. The variable speed is smooth and the clutch settings accurate.
Both pieces use the same high capacity 12 volt Lithium Battery which is a great improvement over the old Ni-Cd batteries. Two batteries are included in the kit as well as a fast 30 minute charger.
If you are on the lookout for an optical scope to add to your tool kit then this combination set offers exceptional value for money. You can pick this kit up for around $220 which is only a little more than the price of the inspection camera itself and you get the PS31-2A thrown in as well.
Click here to purchase this product on Amazon.