If you're looking for a cordless grinder then the Bosch CAG180-01 Lithium Ion grinder kit is one to look at. Lets face it, there are times when you just want to do a quick job without having to pull out power cords and search for  power sockets. But you still need a portable grinder with enough power to actually get the job done. This is where the CAG180-01 excels. If you already run Bosch tools and have enough Li-Ion batteries for this unit then check out the Bosch Bare-Tool CAG180B instead and save yourself a bit of money.
With discount you can pick up one of these grinders just shy of $400 including two Li-Ion fat packs. If you only need the body then expect to pay around $130. Amazon are running some nice discounts on these units at the moment so be sure to check them out.
This is not a tool that you are going to be running all day long. Even with the improvements in energy efficiency the battery packs soon run out of charge. The Bosch CAG180-01 is designed for quick and easy jobs where power outlets are difficult to come by.
Click here to see what others are saying…
Pros:
Small and portable
Highest run time in its class
Cons:
Slim battery packs don't last long
Only good for small jobs
The motor rotates at a respectable 10,000 rpm and uses a 4-1/2″ disc cutter. It has one of the best performance-to-weight ratio of any cordless grinder and when used with the included fat battery packs has a respectable life. Although they will fit the slim battery packs are not recommended for this grinder as they will soon lose their charge. This kit does come with two 18 volt fat pack batteries and a 30 minute charger.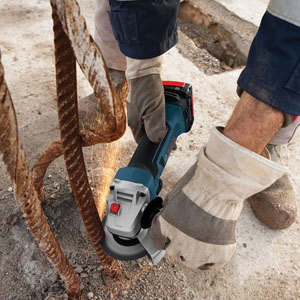 FPS and ECP Battery Technology monitors battery usage so as to maintain the maximum battery life. Overall the Bosch CAG180-01 is said to have the longest run time in its class, approximately 25% more than its competitors. It's hard to predict how long the batteries will last as each job will differ depending upon the material you are cutting and the force you apply to the blade. One user reported being able to make 21 cuts in a 1/2″ threaded rod before charge was lost.
The grinder weighs just 5Lbs and is only 12.6 inches long. It is light and easy to handle with a nice grip.
The Bosch CAG180-01 grinder is a lightweight yet powerful portable cutter. It is capable of cutting through metal, tile and masonry like any other grinder but with the added benefit that it is extremely portable. If you re on the look out for a cordless grinder then this should be one to consider.
Click here to purchase this product on Amazon.