The DeWALT D24000 10 inch wet tile saw has been around for several years now but it still one of the most highly credited tile saws on the market. Offering value for money in a professional package. The model reviewed features a direct drive motor that cuts out extra gearing and belts normally required but it does make for a noisier unit due to the speed of the motor.
This model has been on the market for several years now but it still remains one of the highly rated wet tile saws around. Priced just over the $700 mark it offers a lot of features and pro quality at an affordable price.
This tile saw is ideal for kitchen and bathroom re-modelling jobs, especially if you normally work alone as you'll be able to transport it yourself.
Click here to see what others are saying…
Pros:
Plunge cuts for making square holes
Light. Can be moved by one person.
Cons:
At the center of the D24000 is a powerful yet compact 15 amp motor. Rated at 1.5 HP and with a depth cut of 3-1/8-inch it can go through hard surfaces such as stone and ceramic tiles without too much difficulty. This is not a quiet saw though and ear protection is something you are going to need. The plunge features allows the operator to make square cutouts in a tile so as to accommodate power sockets and electrical fittings. This is a nice feature that is accurate and saves you having to resort to portable saws to get the job done.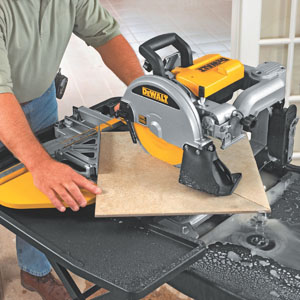 The stainless steel rail system proved accurate and sturdy. It is large enough to cope with a 26 inch rip and 18″ diagonal cuts. When cutting miters there are stops at 45 degrees and 22.5 degrees to make alignment easier. Unlike some other models the stand and the saw assembly come as two separate parts. This makes it easier to transport and although the whole unit weighs in at 70 lbs you can break it down an make a couple of light trips instead.
The water containment system is effective. There are two water nozzles so that you can accurately position the flow of water onto the cutting surface. This helps to minimize over-spray and keeps the work area cleaner. The only time that you are going to see a lot of spillage is when you have the blade set for an angled cut.
As wet tile saws go the DEWALT D24000 is a nice machine. Compact and portable if you are by yourself it has a powerful 15A motor and plunge cut facility which makes cutting around wall sockets a piece of cake.
Click here to purchase this product on Amazon.