The Lackmond WTS2000LN Beast is a 10″ wet tile saw with a wealth of features backed up by a powerful motor. If you have a big tile job coming up and you're on the lookout for a new wet tile saw then this is one definitely worth looking at.
Released early 2012 this is not a cheap entry level tile saw. This is a professional tile cutter with a price to match. Available in stores for under $900 you may find a better deal online at stores like Amazon.
Designed for professional such as general contractors this tile saw is made for big jobs in residential remodelling such as kitchens, bathrooms and general tiling jobs.
Click here to see what others are saying…
Pros:
Plenty of Power but accurate
Lots of features
Cons:
Heavy & Bulky Stand
Expensive
Beast by name and beast by nature. This is a sturdy tile saw with a powerful 15 Amp motor. It is capable of cutting ceramic, porcalein, glass, marble and granite tiles up to 24 inches wide or an 18″ diagonal. The cutting depth is up to 3 3/4″ deep. The blade that comes with the unit is of high quality unlike many other units. The stand, armature and guide are all one unit which makes this saw very rigid and stable. It does, however, make it more of a hassle to transport. The wheels are good on hard surfaces such as a driveway or patio but may prove problematic on soft ground. This saw is heavy though and you may find that you need a helping hand putting into the back of a pickup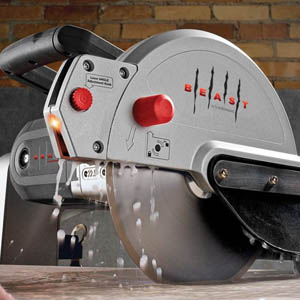 High quality machine made of aluminum and componants that are unlikey to rust. The sliding guide track is very sturdy and precise thanks to its stainless steel ballbearing tracks. The tray can also be locked when you are in transit. This saw comes with a wealth of features including LED indicators for bevel cuts for 25 and 45 degree cuts, a LED work light, laser guide, removable water tray for quick cleaning and a splash guard.
When it comes to changing the 10″ blades you'll find the tool easily located on the side of the unit. The blade cover is easy to access with a single thumb screw which is handy when it comes to cleaning.
The Lackmond WTS2000LN is feature rich and made to last so if you want a wet tile saw that is accurate and will last for years then this is the one to go for. Just make sure you have someone around to help you load it in your truck.
Click here to purchase this product on Amazon.