The DEWALT D26960K Heavy Duty Heat Gun with LCD Display is a rugged and exact piece of kit that comes at a premium. It's not the hottest or cheapest heat gun on the market but it is one of the most accurate and aimed squarely at the professional market. Featuring a large LCD display, easy temperature selection and an innovative kick stand this unit would be at home in any workshop. But lets see how it performs.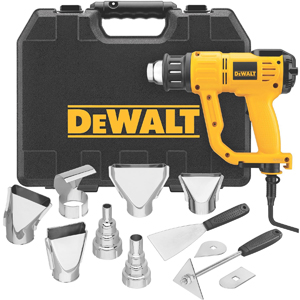 You can pick the D26960K heat gun kit up for around a $100 from online stores such as Amazon.
This DeWalt heat gun is clearly aimed at the professional who needs to have exact control over the temperature of the air. If you want to speed set epoxy, remove paint or bend pvc pipe with total control this the perfect piece of kit.
Click here to see what others are saying…
Pros:
Precise Heat Control upto 1100 °F
Built-In LCD Display
Cons:
Expensive
Not suited to soldering
If you have the need to precisely control the temperature of your heat gun then the DeWalt D26960K may be the model for you. You can control the output in 50 degree steps up to a maximum of 1100 degrees for the finest control. A handy integrated LCD display shows you the exact temperature setting. The display is large and easily read with two buttons on the back of the unit to control the temperature.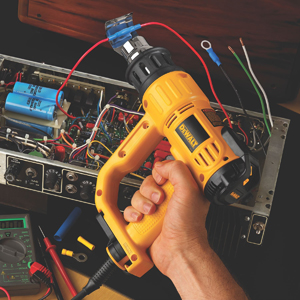 There are a variety of different nozzles included in the kit from cone and fish tail surface nozzles to deflectors and reflectors. The kit also includes a putty knife and scraper. With automatic safety overload protection built-in you know that you won't have to worry about the unit overheating. There is also a cooling ring around the nozzle to help protect the user from burns.
There is an integrated kickstand which is very stable and enables the heat gun to be rested on a table between jobs or even operated vertically for specialized work.
Hot, tough and precise with a wealth of accessories. If you are a professional or even a home user who wants a quality heat gun then the D26960K is one to go for.
Click here to purchase this product on Amazon.