If you're looking for an industrial strength spline hammer drill to perform some heavy duty work on concrete then the DeWALT D25553K Spline Combination Hammer Kit is one worth considering. With a recent price drop you could pick yourself up a bargain.
The DeWALT D25553K spline drive hammer has a recommended retail price (rrp) of around a $1000 but recently Amazon.com have it on sale at just under $400. So if you want a discount of over $600 on this power tool then you should check out Amazon.
This is a professional tool for construction contractors, electrical contractors and plumbers. Great for drilling and chiseling concrete floors for laying pipe and cables or for driving ground rods.
Click here to see what others are saying…
Pros:
High Performance 12 Amp Motor
Clutch reduces sudden recoil should bit jams
Cons:
No Active Vibration Control
Lacking CTC
With a powerful 13 amp motor the D25553K provides a non loaded speed of 490 rpm and a max. 3300 bpm when under load. This unit is able to output 8.0ft-lbs of impact energy which results in faster drilling and chipping. Fitted with a 1 9/16″ drill head it accepts a wide range of drill bits available separately.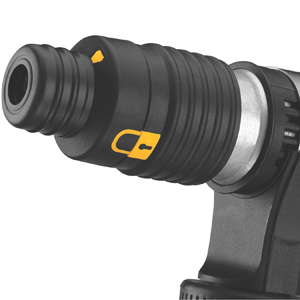 One of the safety measures built into this hammer kit is the clutch system that automatically reduces the torque movement of the drill should the bit jam. This is not the CTC seen on other models but has been factory set. The rear mounted handle makes it easier to apply force when drilling down and the rubberized grip increases control and comfort.
The kit comes complete with the DEWALT D25553K hammer drill, a rugged carry case, a rotating side handle and a depth rod.
This piece of kit can make an easy and safe job of breaking up concrete and save yourself hours in manual work. This is a tough and powerful spline hammer from one of the top manufactuers.
Click here to purchase this product on Amazon.