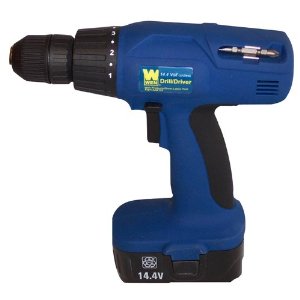 If you only plan on making the occasional light repairs around the home and find that the high prices of most new cordless drill are a little too much then the WEN 5142 could be the drill / driver for you. Perfect for small jobs such as hanging curtains, door repairs and fixing cabinets you get a lot of drill for very little money.
Available through several online stockists the WEN 5142 is proving popular with home diy enthusiasts. You can pick one up with free shipping from Amazon.com at around $45.
Who's it For?
This cordless drill / driver is perfect for anyone who does the occasional repair around the home and is looking for a cheap cordless drill to make life easier.
A cordless drill or screwdriver is almost an essential tool for any home. You can save yourself hours of work, not to mention blisters, with this cheap and powerful model from WEN.
Not satisfied with providing only one battery this model actually comes with two rechargeable batteries. They may not be top of the line Lithium Ion batteries but they are rated at 14.4 volts and with two of them you have a spare when one needs recharging.
With a keyless chuck you are able to swap out bits in seconds without looking for extra tools. It's very easy to use and the bits are locked securely in place.
Featuring a 21 position clutch and variable speed control you get the features of a more expensive model at a reasonable price.
As a safety measure the WEN 5142 incorporates an electronic brake so that the shaft stops rotating as soon as the power switch is released.
The Good:
Very Cheap
2 Batteries Included
The Bad:
No Hammer Action
Not Li-Ion battery
The Bottom Line:
This is a great budget cordless drill / driver that also comes with two batteries and a set of 13 drill and screwdriver bits. At under $50 you get a whole drill set for the price of a replacement battery for a top end model.
Shop online for the best prices on the WEN 5142