The SKIL IXO 2354-04 cordless screwdriver is a very versatile palm-sized model that performs admirably. It's not often you come across a pink screwdriver in the male dominated arena of power tools but SKIL are donating 10% of this screwdrivers price towards breast cancer research. But it's not only the color that makes this cordless screwdriver stand out among the competition.
Just released on to the market in the summer of 2012 you can pick up one of these mini cordless screwdrivers for around $40 online. If shopping online it is always advisable to buy from a reputable trader so that you get good support.
The SKIL IXO 2354-04 is a good screwdriver for those little jobs around the home. Perfect for the conscientious home owner or student who wants a compact cordless driver and doesn't have the need to drill.
Click here to see what others are saying…
Pros:
Straight and right angle adapters
Lithium Ion Battery
Cons:
Only for light jobs
Direction switch easily bumped
What makes this unit unique compared to similar products is the changeable screw heads. There is the regular straight adapter and a innovative right angled version that is useful when you need to work in hard to get spaces. To aid you when working in dark or shadowed surroundings there is a helpful work light embedded in the head. Low speed and high torque gets the job done. This 4 volt motor is powerful enough for small jobs. There is forward and reverse motion but no clutch. The magnet head is strong and easily keeps the bits in position.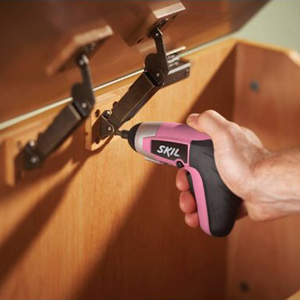 With an advanced 4 volt Lithium Ion battery this little unit can hold its charge over extended periods of time. Charge it up when you are done and it'll still be ready to go a year later. Not only do you get the straight screw and right angled adapter with this driver but you also get a set of screw bits and a battery charger. If you already have bits or want the unit in red you can always go for the Skil 2354-02 version instead.
The head can always be locked in place should you wish to use the screwdriver manually. This model also comes with a matching carry case and a one year warranty.
Comfortable and light in your hand the iXO is a useful tool to keep around the house. Plus you can rest easy knowing that part of the proceeds from this model are going towards a very good cause.
Click here to purchase this product on Amazon.