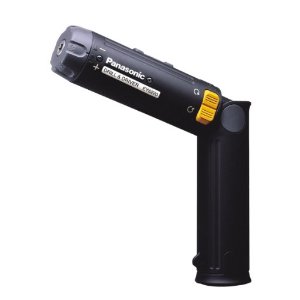 The Panasonic EY6220N may not be the cheapest cordless drill driver on the market and it's certainly not the most powerful. There are plenty of fully sized portable drill available for around the same price which are probably more useful for bigger jobs but where the Panasonic EY6220N excels is in its small size and lightweight build.
Extremely Portable
Many times you don't want to be lugging a large power drill around with you just to remove a few screws or tighten some small bolts. This portable drive easily fits in a pocket or conceals aware in some closet close by ready for the next quick job. Overall it should be seem as a tool to complement your tool kit and with it does that well.
In stores now the cordless Panasonic EY6220N screwdriver normally comes with one battery included but without bits. It can be purchased online from stores such as Amazon often with big discounts and  free shipping.
What's it Good for?
This tool perfect for simple repairs around the home where you require the use of a screwdriver but either don't have the hand strength to do the job manually or would prefer the ease of doing it with a power tool.
Small and compact yet with sufficient torque to replace your manual screwdriver for most jobs. Featuring a standard 1/4 In. hex socket it accepts a multitude of screw and hex heads making it a versatile portable drill driver.
You can easily change the handle shape between pistol grip and straight grip to suit the job you are doing. It's very comfortable to hold and feels well made.
For such a compact cordless screwdriver the Panasonic EY6220N feels powerful. With 26in.lbs of torque this versatile unit is more than adequate for removing most screws.
The EY62220N uses a 6 stage clutch so you know that you'll not over-tighten any screws. There is also an option to lock the shaft so that you can manually tighten as well.
Built in LED light is a nice touch and makes locating screw heads in dark corners and recesses very easy.
The Good:
Small & Powerful
Easily converts from straight to pistol
The Bad:
Max. 400 rpm
2.8 Ah Ni-MH Battery
The Bottom Line:
Having a small cordless screwdriver, like the Panasonic EY6220N, as part of your tool kit is an excellent idea.  For most people the majority of the small repair jobs around the house can be taken care of with a tool like this without struggling with a fully fledged drill/driver.
Get yours here..