The new Makita LXT239 hammer drill driver and impact driver set is combining the best new technology to create powerful yet lightweight tools for the professional. High capacity Lithium batteries and brushless motors are the order of the day. By eliminating the brushes not only are the maintenance requirements slashed but the motor becomes more efficient because the control electronics are able to match the torque and speed requirements as the job demands.
Released mid 2012 this impact driver and hammer drill combo kit is on stores nationwide for around $300. Shop around for the best deals before you buy. Amazon.com has some good deals on this unit.
If you are a home owner who wants a decent combo kit or a professional looking to expand your selection of Makita tools this is a good choice. If you are into extreme drilling then know that the chuck axle has a plastic bushing instead of a metal bearing which is more prone to wear.
Click here to see what others are saying…
Pros:
Brushless Technology
18v Lithium Ion LXT Battery
Cons:
chuck axle has a plastic bushing
The brushless technology used in the motor leads to both an extended battery run-time (up to 50% longer), extra power and less services. The LXPH05Z hammer drill has two speed settings, both variable with a low range of 0-400 rpm for using a driver and 0-1500 rpm when drilling. Capable of delivering 400 inch-pounds of torque this drill driver is no slouch. It also sports a 1/2″ chuck.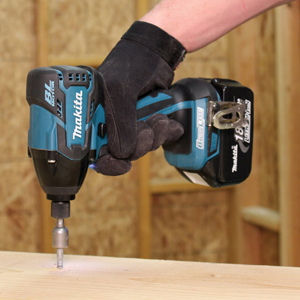 The LXDT08Z impact driver performs admirable as well. Again using brushless technology, which keeps the motor running cool and extending its life, the impact driver delivers up to 1420 inch-pounds of torque. All within a unit that weighs only 3.4 pounds. Two 18v Lithium Ion batteries come with the kit as well as a fast charger which takes around 30 minutes to fully recharge the units. The LXT batteries are standard across the Makita 18v range of power tools.
Makita is a popular brand when it comes to power tools. Recognized for their reliability and quality products.
If you are on the lookout for a hammer drill and impact driver combo then you could save yourself some money and buy a kit like the Makita LXT239. By utilizing brushless technology and 18v Li-ion batteries it manages to remain compact and light yet still deliver on the power.
Click here to purchase this product on Amazon.