The Hitachi KC18DJL is a versatile and tough cordless combo kit. This two piece kit includes a hammer drill and compact impact driver using the latest brushles motor technology. The drill uses a large 1/2 inch keyless chuck. Featuring modern high capacity 18 volt Lithium Ion batteries, a 3.0 Amp/Hour power rating and complete with microprocessor controlled power delivery this is a durable and efficient kit. Plus, of course it comes with Hitachi's lifetime tool warranty.
Released in August 2012 the Hitachi KC18DJL combo kit comes with a two 18 volt Li-Ion batteries and a hard case. This is a top of the line drill and impact driver kit that doesn't come cheap. Amazon.com stock this model and are running a 50% discount on it at the moment.
This kit is not for the casual diyer, unless you have deep pockets. The Hitachi KC18DJL is aimed at the professional market such as cabinet makers, contractors and builders. With a rugged design and low maintenance costs this is a kit that would any pro would be happy to have.
Click here to see what others are saying…
Pros:
Powerful Impact Driver
Compact Hammer Drill Driver
Cons:
Expensive
Charging takes around 45 minutes
This two piece kit includes a cordless hammer drill and an impact driver. While cordless hammer drills are still a rare occurrence the Hitachi KC18DJL is one of the top models and one feature that you'll be pleased to have. The impact driver is perfect for building decks or stairs. Driving in screws with ease this is one tool worth having if you want to speed up your jobs. The head is very compact which is great when you're working in restricted areas.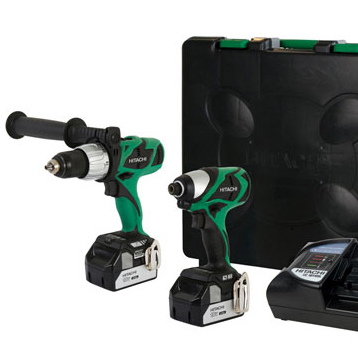 Using the latest brush-less motor technology means that the unit will require less maintenance than it's cheaper counterpart. This unit is no less powerful than a model using brushes so that is a plus. You can adjust the power level delivered by the battery pack so as to extend the life of the battery. Microprocessors embedded in base of the tool control the power output selected through the selection switches. For delicate jobs a slower speed offers much more control and require less charge.
Both the hammer drill and the impact driver are well constructed and tough. Built to withstand most knocks and falls yet remaining compact and easy to handle.
This 2-Piece Combo Kit is a quality product. The impact driver and hammer action of the drill is not only compact in size but a must for most jobs. The brushless technology reduces service costs as you no longer need to replace brushes and the power control system prolongs the time between charges.
Click here to purchase this product on Amazon.