The Hitachi DS14DSFL is a lightweight and relatively inexpensive cordless drill ideally suited to wood and steel work. The motor is capable 300 lbs of torque and a maximum speed of 1250 rpm which is adequate for most small jobs around the house. The variable speed control is smooth and there are dual speed ranges. You get two 14.4v Li-Ion batteries as standard, a fast charger capable of charging a battery in around 35 minutes, a carry case and a separate flash light.
Available at several online stores the DS14DSFL from Hitachi is the latest in a range of lightweight portable hand drills aimed at short light jobs around the home.
We would recommend this product to anybody that regularly does small DIY jobs around their home or office. It is light-weight and very easy to control.
Click here to see what others are saying…
Pros:
Very Light (only 3.3 lbs)
Uses Li-Ion Battery Technology
Cons:
Li-Ion Battery only 14.4 volt
Flash Light not exceptional
This is a very light drill. Mainly thanks to the use of a modern Li-Ion battery. The body weighs just over 3 pounds making it easy to hold and control. Featuring a 3/8-Inch key-less chuck system you'll find it easy to swap out bits without much effort. This is a two handed operation but that is common for a drill in this category.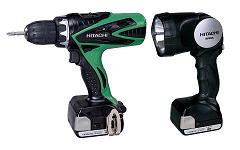 A built-in belt buckle is a handy feature that can prove useful when working complex tasks or if you are up a ladder. The drill is backed by Hitachi's 10 year warranty. There are several plastic parts on this drill that may be prone to cracking or breaking over time so the long warranty is welcomed.
There is a bonus flash light included with the DS14DSFL. It uses the same 14.4v Lithium Ion battery and has a rotating head and pistol grip. It's quite big but is comfortable to hold.
This may not be the fastest or most powerful cordless drill on the market but it is one of the lightest. If you want a cheap drill that is easy to handle then the Hitachi DS14DSFL would be a good choice.
Click here to purchase this product on Amazon.