The Grizzly G0555 14″ band saw is a popular budget model that possesses the features of higher end models. If your work shop is tight on space and you need a sturdy and accurate bandsaw then the G0555 from Grizzly is a good choice.
You can find the Grizzly G0555 band saw at online stores for around $525. This is a big machine and you may be lucky and find free shipping but if you don't expect to add around another $80 to get it to your door. Even if you manage to buy one locally it is always best to ask if there is any shipping costs involved.
This unit has received a lot of good reviews and comments praising how smooth and quiet it runs and noting the lack of vibration. Whether you are a professional looking to use this for everyday use or a weekend woodworker this is one of the better 14″ band saws around and perfect if you only have a small workshop.
Click here to see what others are saying…
Pros:
Rigid table and accurate fence
Excellent Value
Cons:
Poor blade quality
No work light
The 1 HP motor is good enough for most jobs such as re-sawing 3″ oak or 4″ cedar without a problem. Noise-wise this unit is fairly quiet and without noticaeble vibration. The cutting table is sturdy and well milled with some excellent blade guides. Many of the cheaper band saws skimp on this and included either a plastic of a thin metal shelf but this unit feels well made and the stand bolts together in minutes.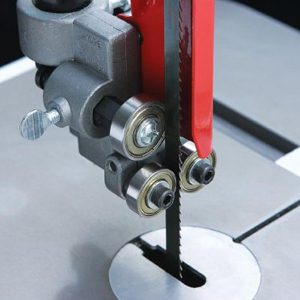 Adjusting the blade to recenter is easily accomplished by turning a knob before locking the blade in place. The table features a handy tilt mechanism and the fence rails are long. The blade that the unit ships with is not the best quality but this is true of most modern power tools. You'll probably want to replace it fairly quickly but the good news is that it is very easy to access the blade and tension wheels when the time arises.
The large dust collector port is larger than most at 4 inches which should limit the amount of sawdust left on the table. The included instructions are clear and easy to follow and putting the band saw together simple.
Overall this is a good low cost bandsaw. Build quality exceeds that of most models in this price bracket models and even some that are more expensive. With the Grizzly you are getting a big saw at a small price.
Click here to purchase this product on Amazon.