The Genesis GL12DHOK2 is a good quality and affordable 3 piece cordless combination kit. Comprising of a 12V Lithium-Ion powered 3/8 in ch drill, oscillating sanding tool and Close-Quarter Hammer it provides a lightweight and versatile solution when working on those small jobs around the home is difficult to get to spaces. Priced at just over $100 it outperforms more expensive combo kits.
The Genesis GL12DHOK2 is a 3 piece cordless combination kit released in August 2012. Available from Amazon.com this kit features three useful power tools that you'll be grateful for working in small spaces.
This combo kit is perfect for home users who need to work in restricted corners where space is limited. When you can't swing a hammer, use a full size saw or your regular size drill is too large to fit you'll be glad of the Genesis GL12DHOK2.
Click here to see what others are saying…
Pros:
Versatile Oscillating Tool
Hammer Tool Good for Tight Corners
Cons:
Battery Doesn't last too long
The GL12DHOK2 is a feature rich set of power tools with a small form factor. Perfect for reaching into hard to get places where regular sized tools are too bulky. Included is a very versatile oscillating tool with a range of head attachments. Can sand, scrape, saw and very useful at grout removal and drywall cutouts.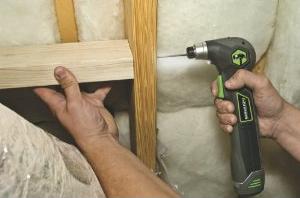 Close Quarter Hammer driver is perfect for getting into tight corners with a powerful magnet to hold the nails in place. It comes with two 12V Lithium-Ion Batteries that can charge in approx. 75 minutes.
The 3/8″ inch drill uses a keyless chuck system that makes changing a drill bit a painless affair. With 12 torque and two speed settings (0-300 and 0-1300 rpm) it is also equipped with a light.
3/8″ inch drill has a single-sleeve keyless chuck for easy bit changes, 2 variable speed ranges (0-350 / 0-1300), 12 torque / clutch settings
Click here to purchase this product on Amazon.