Whether you are professional or a home owner if you own a monster 18v cordless power tool then you know how heavy they can become when you are working with them for extended periods, especially if you are doing any over head work. For most people it's a bit of overkill to use such a powerful tool for most of your jobs and this is where a something like the DeWalt DCK413S2 12 volt kit comes in handy. Complete with a drill driver, impact driver, reciprocating saw and flashlight in a small light-weight package. With this cordless 12v kit you'll  find it easier to work in small spaces without having to resort to holding the barrel at an angle and stripping out the screw head.
Released during the first half of 2012 this compact combo kit is available at several stores online. With discounts you can pick it up around the $350 mark but be quick as stocks are limited.
This combo kit is perfect for anyone that is fed up of lugging their heavy and oversized 18 volt equivalents around or just want to build a more versatile power tool kit. If you are a professional Cabinet Installer, Electrician or Plumber then this will interest you.
Click here to see what others are saying…
Pros:
Versatile 4 Piece Combo Kit
Compact and Light Weight
Cons:
Not as Powerful as the 18v version
Only get two batteries in the kit
Whats the best thing about the DEWALT DCK413S2 combo kit? Well apart from being compact and lightweight, which is to be expected, running on high capacity 12 volt Lithium Ion batteries. When it comes to replacing the batteries you'll find them a lot more less expensive than their 18v brothers. But what about the separate component tools?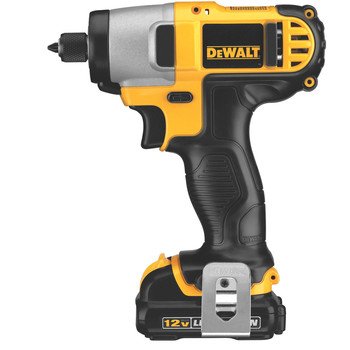 First up is a DeWALT DCD710 drill driver with a 3/8″ chuck. With the standard two speed settings and barrel mounted LED lamps. There is also a belt buckle that can be attached to either side of the body. Next up is a DeWALT DCF815 1/4″ Impact Driver. The chuck can be loaded with one hand and the unit is light and well balanced. You get up to 79 inch-pounds of torque from this driver and it also has a built in work light.
The final tool is a DeWALT DCS310 Pivot Reciprocating Saw complete with a wood and metal cutting blades. It has a three position handle and a keyless locking mechanism for the blade. This is a compact, durable unit perfect for working around a house, cutting pipe, forming cut-outs for electrical sockets and basic wood working.
Completed with a DeWALT DCL510 LED worklight this kit good news for anyone who wants a lightweight and compact versatile set of power tool from a world-class manufacturer.
Click here to purchase this product on Amazon.