Bosch are well known for producing quality jigsaws and the Bosch JS572EL is no exception. With a wealth of features including variable speed control, dual blade guides, adjustable dust blower, keyless blade removal and integrated work light this power tool is one of the best on the market.
In shops since mid 2012 the Bosch JS572EL is part of the Bosch new product line of jigsaws. Available through online stores such as Amazon.com you can purchase it for just under $300. While expensive it is the best jigsaw available from a reputable brand.
This is a tool for professional craftsmen who want to made quality cuts time and time again. The ergonomic top handle, precision speed and dual blade guide makes cutting complex intricate designs easy.
Click here to see what others are saying…
Pros:
Precision Cutting Guides
LED Lighting
Cons:
Apart from its rugged construction there are several features of this unit that are worth mentioning. Firstly there is the powerful 7.2 Amp motor with variable speed control. While the trigger provides smooth variable control you can also set the max. blade speed using a dial at the rear of the saw. The two blade guides ensure that your cuts are as accurate as you can get with a jigsaw. Whilst providing rear support and preventing the blade from twisting and pinching one roller guide is located just above the cut area to ensure maximum accuracy.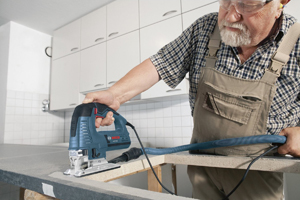 A welcome feature of the JS572EL is the tool-less blade removal. No longer do you have to search around for Allen keys and screwdrivers to replace a blade. You can do it in seconds with the quick release system. The built-in LED lighting is a nice addition. One problem with most jigsaws is that it's always difficult to see the cut line because of the shadows cast by the jigsaw itself. This lighting system eliminates that and helps to ensure a better cut. It can also be turned off if you are working on a bright surface such as metal.
If you have a lot of Bosch tools then you may like the box that this jigsaw come in. The L-Boxx allows similar boxes to be inter-locked together.
If you are looking for the best jigsaw on market and can afford the high price then the Bosch JS572E is the one to go for. With it's high precision cutting ability, lighting system and tool-less blade replacement it's hard to beat.
Click here to purchase this product on Amazon.