The Bosch JS572EBL is another excellent jig saw from Bosch. There's no denying that Bosch produce some of the best jig saws for the discerning professional and if you want the best and you prefer a barrel grip then the JS572EBL is a good choice. If you prefer a top handled version instead then you should choose the Bosch JS572EL instead. Same great features just a different handle.
Available in shops nationwide as well as online you'll pay around $300 for this jig saw. If you're looking to buy from a reputable retailer then Amazon is a good choice. With free shipping offers and discount prices they often have a best deals.
This tool is aimed at the professional craftsman who requires unsurpassed cutting accuracy in a reliable saw. Whether you need to cut wood or sheet metal this jig saw is qualified for the job.
Click here to see what others are saying…
Pros:
Powerful with precision control
Dual blade guides
Cons:
Expensive
Barrel grip gets warm
The Bosch JS572EBL is fitted with a powerful 7.2 Amp motor. Tough enough for most jobs but also versatile with it's two part speed control. You can set the max. speed using the dial switch while the smooth variable speed is controlled by the trigger. But it's not only the power of this jigsaw that makes it stand out from the competition. It also has not one but two blade guides for extra support. These roller guides sit behind the blade, one above the other. The lower one is just a fraction of an inch above the work surface so as to keep the blade steady and straight and prevent twisting.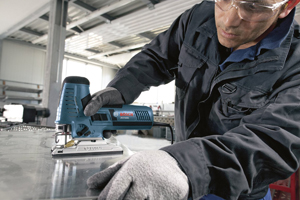 If you are one of those people that has trouble seeing your cutting line due to shadows then you'll be pleased to know that this unit comes with built in LED lighting. The barrel handle is small and easy to grip. Vibrations are minimal and the unit itself is reasonably quiet.
With a tough cast magnesium footplate this jig saw was made to last. This L series comes complete with the L-Boxx carry case. These interlocking cases are designed to ease transport.
If you want a precision jig saw and prefer a barrel grip then the Bosch JS572EBL is our recommended power tool. It has the smallest diameter grip on the market and a wealth of features any professional would admire.
Click here to purchase this product on Amazon.