The Bosch DDS181-03 is the latest offering from Bosch's tough range of cordless drill drivers. This model is noted for not only being a tiny power house with it's 4 pole motor and 18 volt power cell which sports the latest in Lithium-Ion battery packs but it is also a lightweight and compact drill that can operate in spaces your regular corded drill won't fit.
Released mid 2012 the latest model has a new, more upright and compact desgn. Amazon.com is running a special on this drill at the moment. If you would like to save almost 50% on the regular price then you should take a look.
The Bosch DDS181-03 is a perfect drill for both professionals and home users who require a powerful yet lightweight cordless drill that also fits comfortably into small hands.
Click here to see what others are saying…
Pros:
High Torque & Light-Weight
High Capacity Li-Ion Battery
Cons:
No Hammer action
High Price
Its patented drive assemble and powerful 4 pole motor makes the Bosch DDS181-03 one of the most compact high torque pistol grip drills on the market. Featuring a high capacity 18-volt lithium-ion Bosch battery this diminutive drill packs a punch. You get two batteries in the kit. One slim-line lower capacity battery for small jobs where you need to keep the weight down and a higher capacity one for big jobs.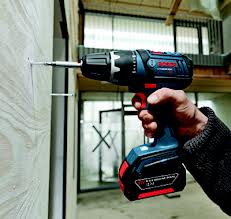 You also get a rapid charger that can quickly re-charge the 18 volt batteries in only 30 minutes. If you have any spare Bosch 18 v batteries from other drills lying around then you'll be pleased to know that the DDS181-03 is compatible with every 18-volt lithium-ion Bosch battery. The ergonomic design may not be revolutionary but it is very comfortable and features the smallest diameter grip in it's class. If you have smaller hands you'll find the Bosch DDS181-03 gives you extra grip and control when working.
The chuckless locking system is easy to use but like most models if you have weak hands you may find that the bit will sometimes come loose.
If you're looking for a compact yet powerful cordless drill with hammer action and can afford the higher price of this model then you should take a look at the Bosch DDS181-03.
Click here to purchase this product on Amazon.