The Black & Decker BDCS40G is a highly advanced powered screwdriver. Firstly it's shape is out of the ordinary but this ergonomic design is very easy to hold and the drill acts like an extension of your own hand. There is no rotation switches on this unit. All you have to do is squeeze and turn. The more you turn the faster the driver goes in that direction.
The Black & Decker BDCS40G will not be available in the shops until the beginning of October 2012. But you can pre-order one now by going to Amazon.
This is a nice powered screw driver to keep around the house for all those little jobs that crop up from time to time. It will easily store away discretely inside a drawer or tool box.
Click here to see what others are saying…
Pros:
Gyroscopic Motion Control
Very Comfortable to Hold
Cons:
No carry case included
No place to store second bit
What stands out about the BDCS40G is it's ground breaking gyroscopic technology. When you are ready to use it you just squeeze the handle and rotate the body in the direction you want to screw. The faster you want the head to move the more you rotate the body. It is very intuitive to use. The inbuilt 4volt lithium-ion rechargeable battery is supposed to be capable of retaining a charge for around a year and a half. Just charge it up when you finish a job and then throw it in a drawer ready for next time.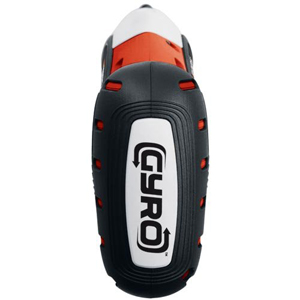 The BDCS40G comes with two screw bits, one standard and the other Philips. Both are single ended. It will also accept any number of standard 1″ screw bits as well. There is a small LED worklight fitted to the front of the screwdriver which helps to illuminate the work surface.
It also comes with a limited two year warranty.
This is one of the shortest cordless screwdrivers on the market. It is made to work in tight corners while delivering a high degree of control. Battery charge life is long and for anyone who has had the misfortune to rush to get a job done only to find that their battery has lost all of it's charge, it will be a boon.
Click here to purchase this product on Amazon.